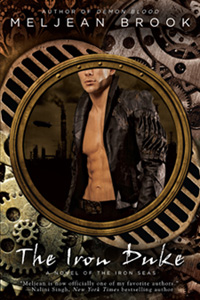 Rating: 3.5 out of 5
Paperback: 384 pages
Publisher: Berkley Trade; Original edition (October 5, 2010)
Language: English
ISBN-10: 0425236676
ISBN-13: 978-0425236673
First Sentence: "
Mina hadn't predicted that sugar would wreck the Marchioness of Hartington's ball; she'd thought the dancing would
."
DI Mina Wentworth lives in the 1800's. Only its not the 1800's as we know them. There are zombies, pirates, nanoagents in people, Europe is occupied by the horde, and there is flying boats. When a body is dropped onto the national hero's door step it is her responsibility to investigate who is the murderer. As she digs into the mystery it becomes clear this not a simple case of murder but a conspiracy that runs so deep the lives of everyone in England is threatened.
Alright I thought this was a paranormal novel, that it would have a touch of romance like they normally do. Little did I know this was more romance then anything else, and the sex scenes would make a harlequin romance heroine blush. I felt the sex scenes were for the most part unnecessary and distracting from a good story. By the tenth page or so of sex scenes I was, to be honest, getting bored. If however you like your romance hot and graphic then you will probably love this. But honestly I thought it just got in the way of a perfectly good story.
The world Meljean created is a fascinating one. The horde (which is never really explained as to who/what they are) infected people with nanoagents to control them. Zombies are, from what I can understand, people whose nanoagents have gone rogue. Most of Europe is infected with zombies. Clockwork and steam powered machines are common place (there are steam carriages and flying airships).Women can work but Mina's mother is leading a movement to reintroduce the institution of marriage and staying home to raise kids.
Mina is an interesting character. She is considered to have had a privileged upbringing but in reality is still quite poor. Her life has also been harsh being half horde. She is intelligent and brave but seems aware of her boundaries. Rhys is a typical pirate who has a rough exterior and a soft core. Scarsdale I thought was a fun character and enjoyed reading his scene's, especially the one where he was in prison.
This does lead to my other gripe which is minor. There were just to many story holes for me. Who exactly are the horde? why did they invade Europe and Asia and stop there? Why have they not taken England back? I suspect this is the first book in a series so I hope the author will reveal these answers later.
If you like romance and steampunk this is definitely for you.
Other Stuff:
Read an excerpt
here
.